2022-2023
Camping Information
In 2022, Hoosier Horse Camp switched to ALL Seasonal camping.  No Nightly camping reservations or Day Riding is available.  
A "Seasonal Site" is one that is leased for the entire season (Mar 1-mid Nov).  Leasee's are permitted to use the site at their convenience, throughout the season, without needing to call ahead to make reservations. 
We plan to re-evaluate at the end of 2023 to determine if we will continue with all Seasonal camping or begin offering Nightly camping again. 
If you would like to be added to the waiting list for one of our seasonal sites, send your contact information by clicking on the "Contact" tab and fill out the form to email us.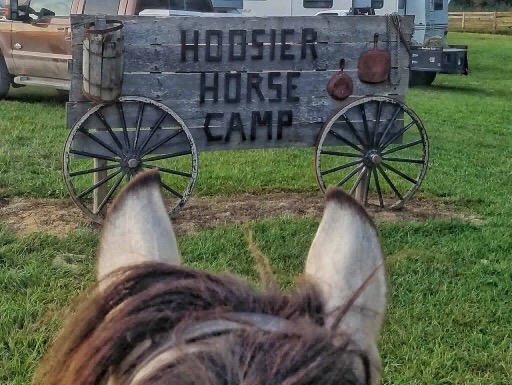 2023 Rates:
$1200-Site with a Hitch Rail
$1700-Site with 2 Stall Barn
$2200-Site with 4 Stall Barn
Private Barn Stall-$225/season or $10/night
A non-refundable deposit of $400 is due when the "Camping Agreement and Waiver" is signed.  Deposits for site renewals are due November 1. The remainder of the balance is due in two equal installments. First installment is due March 1, 2023.  Second installment is due July 1, 2023.
Electricity is additional and is calculated on actual usage, no minimum or base fees.  Water is included.
All deposits and fees are Non-Refundable.
Winter Storage:
First Day of Gun Season - End of February
Campers may be stored on your site during the Winter Season if you are a contracted seasonal camper for the next year.
Fee: $100......Due by November 1.
If you choose this option, the unit will need to be winterized and disconnected from water and electricity.
Winter Camping:
First Day of Gun Season - End of February
If you are paying for winter storage and you would like to camp during the winter season, there is no charge for camping other than your electric usage.
If you are a contracted seasonal camper for the next year, but NOT paying for winter storage, you may camp on your site during the Winter Season. Rates apply:
$10/night - Site with a Hitch Rail
$20/night - Site with a 2 stall barn
$30/night - Site with a 4 stall barn
$5/night - Stall in the barn
Seasonal Camping Information: